Robert Holdstock
penned his
break through
novel
Mythago Wood
in 1984. The prose is simple and poetic, the story rooted in the myths and folklore of Britain. Holdstock's level of creativity and power to evoke mysterious atmosphere -- I especially love his descriptive passages of wooded landscapes -- won him great respect among Tolkien scholars and readers. That was my sole reason for picking up the book.
I read it straight through in one sitting, left it alone for a few weeks, and then re-read parts of it. I think Holdstock bit off more than he could chew, but the first third of the novel and its last few pages are wonderful. The technique he uses to create character depth is genius...yet frustrating.
But before I get into that, I want to state that we are all of us created to worship (Psalm 115 comes to mind). In
Mythago Wood
the protagonist and his companion search for what, they believe, is ultimate happiness -- they hunger for the fulfillment of their greatest, and sometimes secret, desires.
Steven Huxley
Our protagonist, the reader joins Huxley in unraveling the mysteries of his father's research into Ryhope Wood, the forest that borders the family estate. Its very name "wry-hope" should not be lost on readers. We learn that the wood is, somehow, the origin of all human fantasy and myth. From spectacular places to horrific monsters, and even mythical heroes such as Robin Hood and Hercules -- all are only images, or 'Mythagos' ("myth" + "image," but the fact that Holdstock uses the Latin _imago_ evokes Ecclesiastical language -- Imago Dei, etc.) And, indeed, Holdstock plays with that thought. If we have Imaged all of the storytelling and myth-making of mankind, then could we not also be Images made by Someone?
And what is the Mythago that Huxley generates as he spends time in the woods? What is the imagined -- imaged -- desire in his heart? Eternal love for a woman. And, of course, not
really
love but only the carnal fulfillment from the imagined "woman of all women." For ever and ever. And ever. I could not have been more disappointed.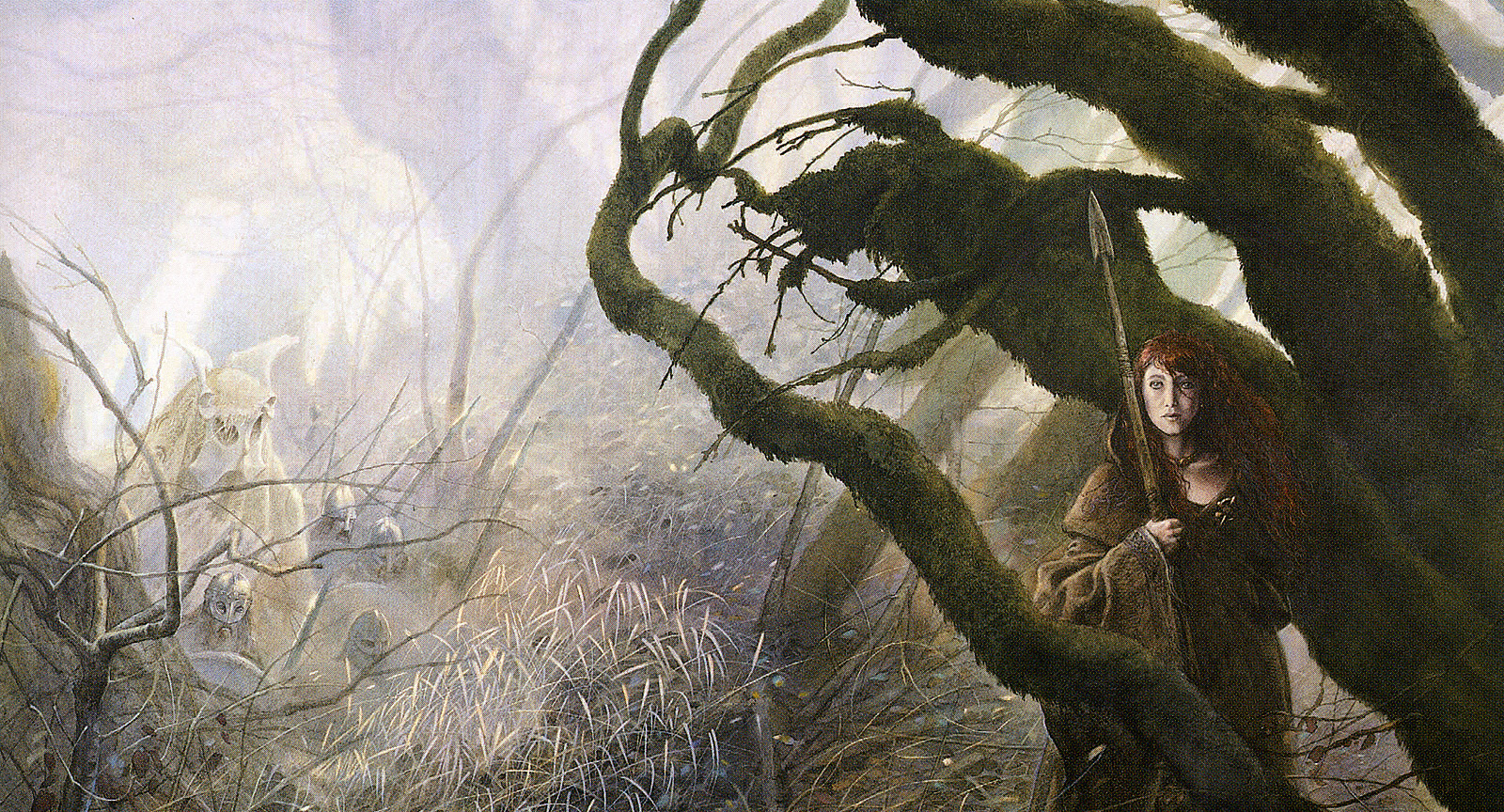 Art by John Howe: Source
Yes, yes, thanks for the lovely art Mr. Howe,
but...I mean, really?
Most readers will love this romantic plot line and Holdstock makes it such a central aspect of the novel that I wondered at times if was he was taking himself seriously. This alluring Mythago, Gwyneth, enamors all of the Huxley men -- pitting son again father, and then brother against brother. And we learn that, apparently, this is all she's existed for since the first man "imaged" her. Intriguing? Not really. But Holdstock paints a depressingly convincing story that if Ryhope Wood really existed and men all throughout history had access to it, then Gwyneth is a predictable result. Huxley even states that he knows he shares her, that he's participating in "the countless experiences of our ancestors" and in his eyes that just makes her more desirable. Which, of course, is how she's been viewed by every man....except for....
Harry Keeton
The real hero, but so understated you nearly miss him -- and I love that. In fact, some readers I know dismiss him entirely, preferring instead of the passionate tale of Huxley and Gwyneth. After all, Holdstock spends a very few pages on Keeton's story. But it's Keeton's few journal entries in the shared travel log that give us true perspective into Ryhope Wood and its dangers, the diminishing sanity of Steven Huxley, and (refreshingly!) he is the only character who possesses a sense of humor and wry whimsy.
Keeton is not so much Huxley's friend but a travel companion into Ryhope because he, too, seeks his Mythago -- Heaven. A local ex-RAF pilot, disfigured from burn-scars, he entered Ryhope Wood when his plane went down in France (the wood can be entered from anywhere in the world, it seems). Keeton joins Huxley's search for Gwyneth only because he hopes to find again that shining city he glimpsed years ago. In a whirlwind of events, which I won't give away here, Keeton's whereabouts are unknown to Huxley by the end of the journey. But we're left with an inkling that Keeton's younger sister will come to Ryhope in search for her brother, but that's the plot for the following book.
Two Observations
Mythago Wood
is full of serious characters and themes -- mystery, betrayal, love, hate, greed. But it's the background character, Harry Keeton, who provides such sharp contrast of hope and joy that makes the book well worth reading. The fact that there's so little of good Harry in the book is frustrating, but at the same time I wonder if I would treasure those few pages of him as much if there were more...
Secondly, I had to re-read several of the descriptive passages. Holdstock's prose is simple and clean, but at the same time poetic and full of complex ideas and old stories. He is a master of atmosphere. The second novel,
Lavondyss,
is even more poetic and has, I think, the most beautiful imagery in the entire
Mythago
cycle. But I do find the story-telling of first book to be the best.